Finance
PATA Nepal and Bangladesh, along with HHTDN, Collaborate to Boost Regional Tourism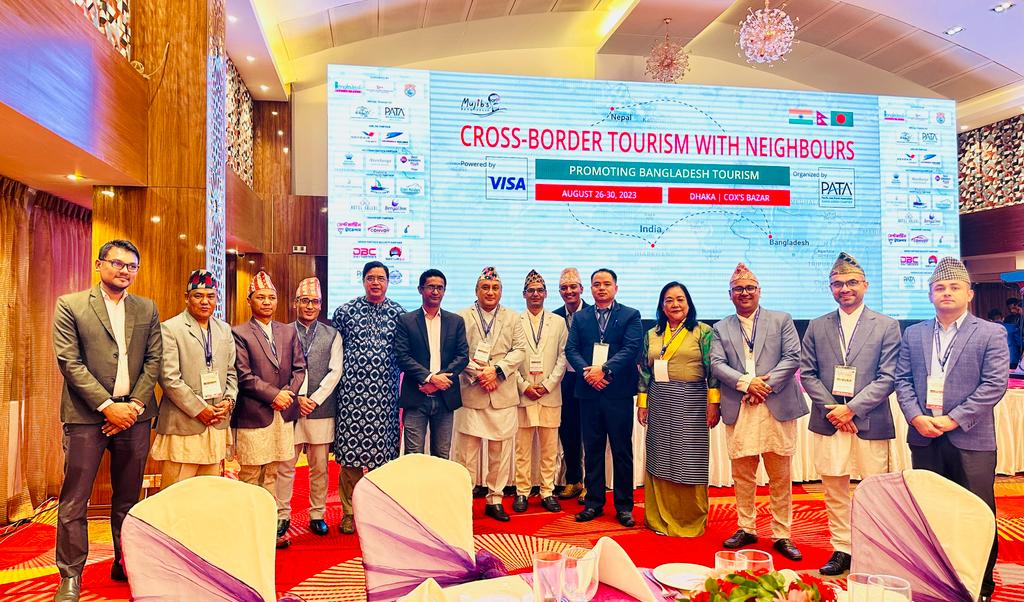 Kathmandu: Pacific Asia Travel Association (PATA) Nepal Chapter participated in the 'Cross-Border Tourism with Neighbours' event, a tourism promotional event organized by PATA Bangladesh Chapter in collaboration with the Bangladesh Tourism Board, Bangladesh
Parjatan Corporation, and all tourism-related associations in Dhaka and Cox's Bazar, Bangladesh, from August 26th to 30th, 2023.
The event aimed to promote tourism in Bangladesh and foster cross-border tourism between neighbouring countries, brought together over 250 public and private sector stakeholders from Nepal, India, and Bangladesh.
Thirteen Nepalese delegates, led by Bibhu Thakur, Chairman of PATA Nepal Chapter, and sixteen Indian tourism entrepreneurs, led by
Samrat Sanyal, General Secretary of Siliguri-India based Himalayan Hospitality & Tourism Development Network (HHTDN), participated as foreign delegates upon the invitation of Shahid Hamid FIH, Chairman of PATA Bangladesh Chapter.
The five-day-long event was graciously inaugurated by the M. Mahbub Ali, Minister of Civil Aviation and Tourism, at the Dhaka Regency Hotel and Resort on August 26, 2023, in Nikunja, Dhaka.
The event facilitated FAM trips for foreign delegates, presenting
promising tourist delights of Bangladesh, and included B2B exchange sessions among foreign delegates and local tourism entrepreneurs and stakeholders in Dhaka and Cox's Bazar, Bangladesh.
The organizing team from Bangladesh, along with representatives from Nepal and India, have mutually agreed to enhance their engagement and advocacy efforts to promote cross- border tourism by simplifying travel formalities and integrating tourism packages and offerings into their respective businesses.
This event, organized by PATA Bangladesh Chapter, received support from various organizations, including: Bangladesh Tourism Board, Visa, Bangladesh Parjatan Corporation, Tourist Police Bangladesh, PATA Nepal Chapter, HHTDN, Novo Air, US Bangla Airlines, Dhaka Regency Hotel & Resort, Best Western Plus Maya, DBC News,
Convoy Service, Silver Wave Tours Ltd., Intercontinental Dhaka, Riverain Tours, Saint Martin Travels, Green Holidays, Hotel Kollol, Bengal Inn, Securex, PATA Bangladesh Dhaka University Student Chapter, and Cox's Bazar City College.